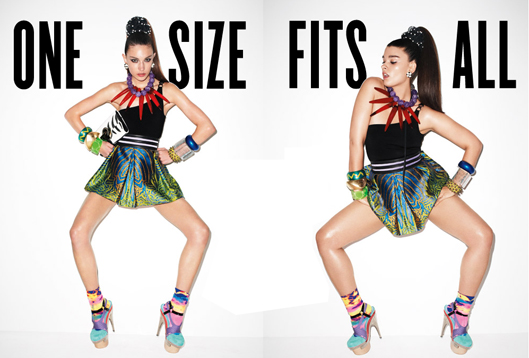 Racked reported:
Saks Fifth Avenue is about to become the only major retailer in the city to carry plus-sized womenswear by names like Chanel and Dolce & Gabbana. Coming very soon to the department store's super high-end third floor, fall and winter plus-sized pieces will be mixed right in with existing stock—most of which would formerly have only been available in sizes ranging to a 10. Stock will reach size 14 across the board, and in some cases—depending on the brand—will go up to a size 20.
And we're not just talking about smart suits and evening gowns for the ladies-who-lunch set (though they'll have plenty to peruse, with extended sizes from Akris, Armani, Carolina Herrera, Escada, Donna Karan, St. John, Oscar de la Renta, Max Mara, Valentino and Michael Kors). Saks will also be stocking plus-sized pieces by the aforementioned Chanel and Dolce & Gabbana, as well as from Yves Saint Laurent, Alexander McQueen, Fendi and Roberto Cavalli.
Fair warning, ladies: Don't wait for markdowns if you have your heart set on something. As with many of the high-priced pieces in high-priced venues, we're told only one of each size will be stocked for most pieces. And, if this New York roll-out is deemed successful, other Saks stores will be following suit.
Lela Notes: These are quoted in US sizes. The plus-size world is making some big (no pun intended…kind of) strides.