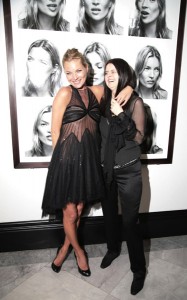 Corinne Day, the British fashion photographer who is largely credited with launching Kate Moss' career, is rumored to have died. Day has been battling a brain tumor since late last year. Vogue UK reported in February that treatment for it was unsuccessful, and that the Victoria and Albert Museum was planning a retrospective of her work.
Day, who taught herself photography, is best known for her impact on the fashion industry in the early 1990s. She photographed Kate Moss' first cover of British Vogue, and her image are considerably more documentary, biographical and 'grunge'.
Until recently, Day had been an active photographer. Her work appeared in Italian, Japanese and British Vogue and has been exhibited at the Tate Modern, the Saatchi Gallery and the Whitney Museum.