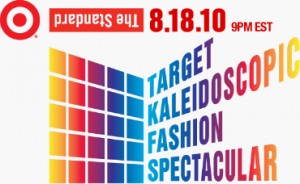 Tomorrow (August 18th), Target is taking over The Standard Hotel in New York City with an out-of-this world fashion show, dubbed the "Target Kaleidoscopic Fashion Spectacular," to highlight their fall 2010 collections. In 155 rooms of the hotel, 66 dancers dressed in the latest offerings will be choreographed in sync with the lighting patterns that will set the building's southern facade ablaze. On the street level, a further 25 performers will appear in a nine-room replica stage that mirrors the windows of the hotel. Even if you don't live in the Big Apple, you can still get in on the high – Target will broadcast the experience via live-stream on their Facebook page.
The music, by Sam Spiegel (also known as Squeak E. Clean of N.A.S.A.), involves everything from a 30-piece live orchestra and a 10-person chorus to a human heartbeat, and it was all recorded in Frank Sinatra's old studio. The styling was done by Mel Ottenberg and beauty expert Sonia Kashuk, whose theme for the models' faces was "kaleidoscope." And the dancing was organized by LA-based experimental choreographer Sir Ryan Heffington, who has been described as "the lost, sweaty love child of Martha Graham and Freddie Mercury."
Wish I could be there!