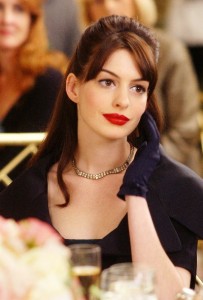 The Daily Mail recently sat down with Lauren Weisberger, whose novel, The Devil Wears Prada, was based off of her own year-long experience as Anna Wintour's (or Meryl Steep's) assistant at Vogue. The book was translated into 27 different languages and sold in 31 different countries, and the film version grossed $300 million at box offices globally. The fascination with Anna Wintour's former assistant was undeniable.
And just as we expected, she dished some dirt – most notably, how her own experiences differed from that of the movie.
On whether she got dressed from the Vogue closets like Andy:
"[I] never got to raid the closet because I never had time, although the other girls did and they wore the most fabulous things to parties. And I never went to Paris. French Vogue provided Anna with assistants when she was over there."
On her in-office footwear:
"Unlike Andy I couldn't force myself to wear high heels…I wore these horrible, black platform boots with a thick rubber sole because there was no choice. And even though for a couple of weeks I made the boot-to-high-heels switch under my desk, I just had to forget it in the end. She would stare at them in disgust and it was a stare that conveyed her displeasure pretty clearly."
On writing her book:
"People have said it was "boss betrayal", but that wasn't what it was. I worked there for a year and it was a hell of a year — crazy, exciting and hard… When it was published, people kept saying "It's so brave of you to write this", but it wasn't bravery — it was stupidity and complete naivety."
On Vogue's reaction to the book:
"…What sent the biggest message of all was that silence. The book was getting so much hype and so much publicity, but not a single Conde Nast publication mentioned a word — not my name, the title, anything, and that pretty much told me where they stood on that."
Weisberger's next novel, Last Night At Chateau Marmont, hits bookstores this week.