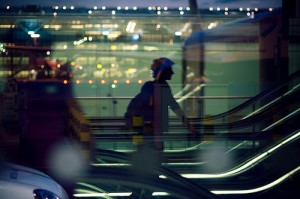 Come fly with me, let's fly, let's fly away.
Whether you're an Editor on your way to Milan Fashion Week or a lucky transatlantic fashionista with an 'in', the end of London Fashion Week means that Heathrow will be packed with some very well dressed men and women tomorrow.
Now – as a flying junkie – I have to give props to Heathrow Airport. They literally cater to my every need, and more specifically every fashion need. Across the 671,000 square feet of retail space there are over 400 outlets. FOUR. HUNDRED.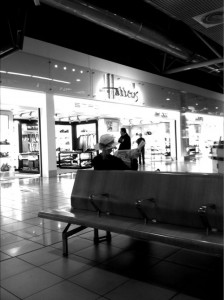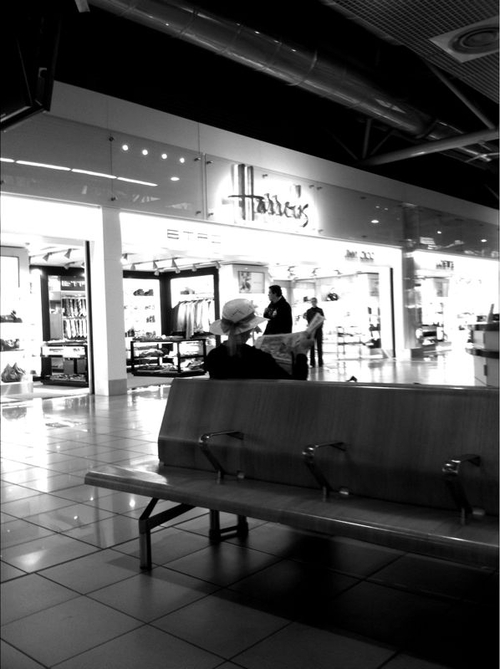 TERMINAL 5 –
My favourite place is Terminal 5, and my favourite inside of the terminal is Harrods. This was the first fashion department store in an airport to feature an extensive jeans library as well as a wide range of complementary fashion items. It's stunning on the inside. There is also a Tiffany & Co. which displays signature jewellery pieces from the 1840s to present. This store is the only place outside of Tiffany & Co.'s New York 5th Avenue store where passengers can view the archive collection. Another must-shop is Paul Smith (known as GLOBE here), where the shop reflects Paul's eclectic taste and houses an assortment of special and 'unexpected' items – from rare books and photographic prints to unique furniture – alongside the designer's latest clothing and accessories collection.
What's else is there? Bulgari, Cartier, David Clulow, Dior, Kurt Geiger, Links of London, Mappin & Webb, Mont Blanc, Mulberry, Nokia, Smythson, Sony, Sunglass Hut, Thomas Pink, Tie Rack, Vodafone, WDF, Accessorize, Reiss, Ted Baker, Gucci, Paul Smith and Prada.
TERMINAL 4 –
So fresh and so clean after a 2009 revamp. There is a distinct British feel throughout the terminal with quintessential brands such as Burberry, Harrods and the first-ever Cath Kidson airport store. Following the success of the Terminal 5 store, Harrods is launching four new standalone designer boutiques with debuts from internationally renowned British high fashion house Jimmy Choo and Italian label Etro as well as Cavalli and Paul Smith. Concession stores currently open under the Harrods umbrella include Ermenegildo Zegna, Loewe, Valentino, Salvatore Ferragamo, a revamped Cartier, Montblanc and Dunhill.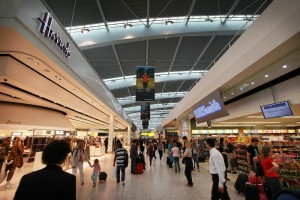 TERMINAL 3 –
There is more than 129,000 sqft of retail space in Terminal 3 and a total of 105 units including catering and fashion. Stores include: Boots, Bulgari, Burberry, Cartier, Chanel, Dior, Dixons, Emporio Armani, Ermenegildo Zegna, Glorious Britain, Gucci, HMV, Hamleys, Harrods, Hermes, Jo Malone, Kurt Geiger, MAC, Mappin & Webb, Mont Blanc, Mulberry, Paul Smith, Reiss, Salvatore Ferragamo, Smythson, Sunglass Hut, Thomas Pink, Tie Rack, Tod's, Versace, WH Smith, WH Smith Books, WDF and Tiffany & Co.
TERMINAL 1 –
BAA has begun a £2 billion investment programme to develop a new Heathrow terminal which will replace Terminals 1 and 2. The first phase of the work is expected to be completed in time for the London Olympics in 2012. Currently, Terminal 1 has Bally, Burberry, Clarks, Cocoon, Dixons, Fat Face, French Connection, Glorious Britain, HMV, Hamleys, Harrods, Hugo Boss, LK Bennett, Links of London, Mulberry, Omega, Sunglass Hut, Swarovski, Thomas Pink, Tie Rack, Timberland, WH Smith, WDF, Ted Baker and Watches of Switzerland on offer.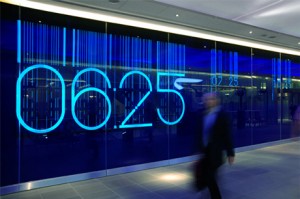 Uh, why am I shopping in the airport?
Apart from everything you buy being secured under their 60 day returns policy, you also have:
DISCOUNTS AND SPECIALS. Seriously. We're talking tax free. Even on Creme de la Mer. There are also very exclusive travel packs that would be handy for absolutely anyone. (I am currently living out of the Lancome Absolu Voyage Makeup Palette from Heathrow! Bargain Godsend. Also, – and I'm sure this is of special interest to expats – it's the only place to buy Victoria's Secret in the UK.)
SHOP AND COLLECT. This service was designed for those who enjoy pre-flight shopping but hate struggling with the extra bags. With Shop & Collect you just buy before you fly, then pick up your purchases on your return. One hundred percent free as long as your flight is in the EU.
RESERVE AND COLLECT. No time to shop, but want to take advantage of duty free? This lets you reserve items online up to 48 hours before your flight and they'll be waiting for you at the shop before you fly. No crowds.
Heathrow houses prodigious spas, restaurants, and some of the most indulgent member's lounges in the world (lookin' at you, Virgin Atlantic). The experience is worth a flight alone.
(Side note: I just found out if you vote for your travel must-haves at The Heathrow Travel Product Awards you will automatically be entered into an exclusive prize draw with a chance to win a selection of the winning products up to the value of £5,000!)