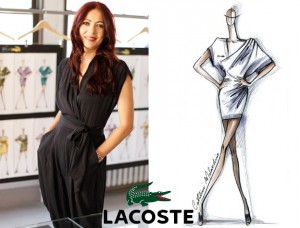 The fashion force Catherine Malandrino is launching a Malandrino Capsule Collection for Lacoste! The first released image above looks stunning. In the coolest related tidbit, she's even created a new logo just for the collection made up of two kissing crocodiles, one green and one yellow! There will even be shoes and handbags in the collection.
"As a French woman, I was very honored when they first approached me. Lacoste was so much a part of my childhood, too. It is still the epitome of class and joie de vivre that is linked to Lacoste," Malandrino told WWD.
Look out for the collection this April in Malandrino and Lacoste stores.