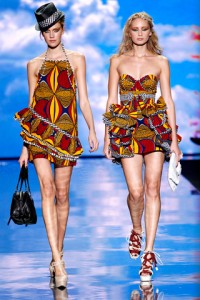 A stellar end to the Spring 2011 shows, Gwen Stefani's L.A.M.B. presentation at New York Fashion Week woke up jaded editors with both a killer reggae-theme soundtrack (Sean Paul, M.I.A., Santogold) and a vibrant collection to match.
With husband Gavin Rossdale and son Kingston sitting front-row, Stefani delivered an African-inspired collection that banked on bright wax-block prints splashed on everything from minidresses and crop tops to trousers and drop-crotch jumpers. Mixed in with the Africa theme were a few tailored suits and pieces reflecting Stefani's own decade-old signature style, including midriff-baring tops, lots of punk plaids, and oversize fold-over pants.
While the collection started stronger than it ended, the showing overall – and no doubt (wink wink) the thumping beats, the knowledge that this was the last show of the week, and seeing uber-adorable Kingston run to his mother during her finale walk – had attendees leaving with smiles on their faces.