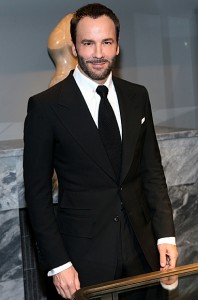 Tom Ford is heavy in the not-so-rumour mill today. The latest 'secret' is that Ford will indeed be showing his collection with a small and ultra-exclusive presentation this evening with one extra special caveat. Ford will not be using your usual run-of-the-mill, legs-for-days amazon women but has chosen celebrities as models instead.
"…think Beyonce, Lou Doillon, Victoria Beckham…" said an insider.
In addition, Ford will be walking guests through each look personally. We can't wait to see photos! Well, actually, we'll have to. There will only be one photographer present (employed by Ford) – decidedly lowering the chances of contraband images. Apparently, Tom doesn't plan on releasing any pictures until January to avoid counterfeits, but I think it's just to spite me.