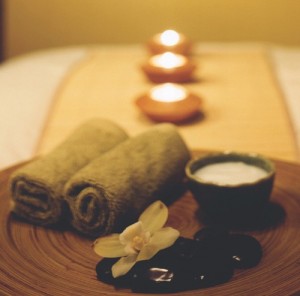 I have a plethora of neck and back problems. I'm talking constant discomfort for the last ten years or so after overworking myself in dance training. Since physiotherapy used to push me to tears, I stopped going after a few months and no improvement. An indulgent person by nature, I have no idea why it hadn't occurred to me to combine a little luxury with the treatment of my issues. As of yesterday, I have never regretted a decision less thanks to Deirdre Gough's Oceanic Massage.
I may soon decide to visit Deirdre for a living. I have never experienced such a transcendent treatment. For one and a half hours, the techniques of Lomi Lomi, Thai, and Tachyon crystal massage (to name a few) were extended to me. Even the massage gel she used was sensuous; a blend of Kukui nut oil, almond, apricot, sesame, Canadian canola oil, and vitamin E. An enticing elixir as opposed to the typical masseuse gunk that likes to latch onto your garments for hours afterwards.
Feeling peaceful and rejuvenated – but painless – you end the treatment harmonized and on a natural high. In my personal case, Deidre confirmed my problem areas and gave specific advice to help me beat the pain and build up of energy-draining lactic acid in my muscles. I'm positive she is a superhero healer. She's Mrs. Fantastic.