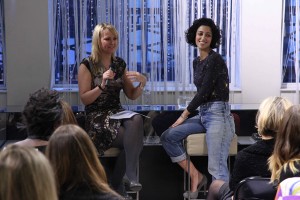 A beautiful store in it's own right, the Swarovski CRYSTALLIZED™ Concept Store and Café on Great Marlborough Street played host for last Thursday's Fashion Business Club meeting. For anyone in the dark, the Fashion Business Club is a group of photographers, editors, stylists, designers, and board members on the fashion front. The stylemakers.
The focus of the meeting was the absolutely delightful Yasmin Sewell, the fashion forecaster and creative consultant that every young fashion fighter strives to follow in the footsteps of. Holding the discussion and questions we all wanted the answers to was FBC member Lauretta Roberts, the Digital Development Director of WGSN and Founder and Director of the Global Fashion Awards.
Members got to find out the highs and lows of her career thus far, from the inspiration behind her incredible store (Yasmin Cho), to it's unfortunate demise (a combination of barely-there experience and financial backing). Though I had met Yasmin previously, she has a personality and business ethic that remains fresh and radiant. The meeting was wonderful.
Fast facts:
– Favourite high street? Zara, Cos and Whistles.
– Her success? Based on an ethos of 'feeling'.
– We share an extraordinary love for Acne.
– Super sound bite: "…interns come to me, and say, "I want your contacts", some don't come to me to learn, I am not about to hand over my entire career."
– The next big thing? Thomas Tait and J. JS Lee (no joke, this is spot on).