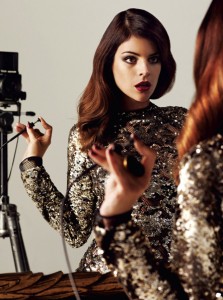 If you don't already know, Julia Restoin Roitfeld is model and daughter of famed French Vogue editor Carine Roitfeld. For V Magazine's upcoming issue #69, she is delivering a tiny collection of stunning self-portraits (the kind you don't find on Myspace) while wearing Tom Ford's long awaited womenswear collection. Check out her short interview with the designer and the rest of the shoot below:
JULIA RESTOIN ROITFELD What made you decide that this was the season to return to fashion?
TOM FORD I told myself that I would not come back to 
women's fashion until I felt I had something new to say. I feel that fashion has become too serious and that the actual customer's needs have not really been addressed. Fashion needs to make one happy. It is a luxury and should enhance one's quality of life.

JRR What inspired your collection?
TF Real clothes for real women. I want to concentrate on my real customer. That's why I showed idealized versions of her – different women of different ages. It was about individuality, different body types, women who have their own style.

JRR What do you think fashion needs more of right now?
TF Spontaneity. Fashion needs to be more fun.

JRR What personality traits does the Tom Ford woman possess?
TF My customer has her own sense of style and knows herself well. My goal is to help women become the best version of themselves.

JRR What is your favorite piece from the collection?
TF I love every piece. That is like asking someone which one of their children is their favourite.

JRR Outside fashion, what are you looking forward to this spring?
TF I have to say more fashion. I love what I am doing right now and can't wait to start the next collection.

JRR What was the last thing that made you laugh?
TF I laugh a good bit so that is a hard question. I suppose a phone call I just had with Richard [Buckley] five minutes ago made me laugh pretty hard. He has a wicked sense of humour.

JRR What's your New Year's resolution?
TF I don't have one. I believe in living life the way that you want to live it every day, and if you do that you don't really need to have New Year's resolutions.