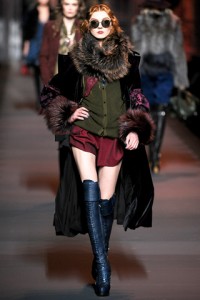 "The heart of the house of Dior, which beats remain unseen, is made up of its team and studios, of its seamtresses and craftsmen, who work hard day after day, never counting the hours, and carrying on the values and vision of Monsieur Dior. Ce que vous allez voir maintenant, le résultat de leur immense travail. What you are seeing now, the result of their immense work."
– Sidney Toledano, the CEO of Christian Dior
Sixty-three looks. Vlada Roslyakova. Iris Egbers. Karlie Kloss. Coco Rocha. After recent events, it is clear we are at the end of an entire chapter in the history of contemporary fashion. The magnetic garments presented on the courtyard of the Musée Rodin for Fall/Winter 2011 reminded us that "the show must go on". See the top five looks below.