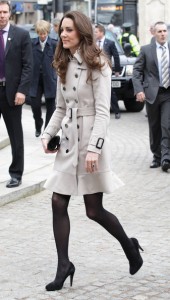 The feminine center of the media's omniscent eye, soon-to-be-royal Kate Middleton has already had a killer impact on the fashion consumerism. Everyone wants their hands on a little bit of that Princess Magic.
The major story here is the infamous blue-jersey Issa wrap dress she wore during the press conference announcing her engagement to Prince William; it sold out in store and online within 24 hours, brought name recognition to a little known brand (from designer Daniella Helayel), and inspired countless knock offs. After that? A cream-coloured Reiss dress she wore in their Mario Testino-shot engagement portraits – a past season's style from her own closet – that prompted Reiss to reissue the dress.
The £650 Burberry trench with the ruffle-flare hem she wore last week? Sold out on online, joining the ranks of PartyBingo.com as top 2 most ridiculous ways to waste money online. A £22 knock-off by Brit brand Asda saw sales spike 300 percent. The black velvet Libelula coat she wore to a wedding in January? The Mail reports that the £310 Dulwich coat sold out within hours of the photos being published and now has a wait list of over 300 people. The £295 Temperley Titan dress she wore to a charity event in December? Sold out in two days (Kate got it on sale).
The red Luisa Spagnoli suit and Aquatalia boots she wore when she went to St. Andrews with Will last month? According to the Mail the £335 "sushi" jacket and £160 skirt sold out within a day at London boutique Hollie de Keyser. The boutique re-ordered 100 more of the suit and owner Hollie de Kayser said, "Since Kate wore the suit, we have been inundated." As for the £395 Aquatalia boots? Stockists Russell & Bromley say everyone's calling for the "Kate Middleon boots."
I'm hoping for a little more Michelle Obama style from the classic beauty, but there is no arguing she knows how to work both high and low end tailoring.