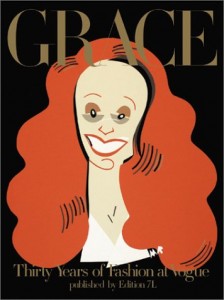 After the success of The September Issue, Grace Coddington became one of the industry's most beloved. A new profile in The Economist's supplement, Intelligent Life, details a lot of the reasons we love her so (work ethic, strive, mindful influence in a sometimes soulless industry, etc). The article was penned by Grace's former assistant Julie Kavanagh, who is now the London editor of Vanity Fair, and is worth a few minutes of your Thursday evening.
On playing on the beach with Manolo Blahnik.
For a cover, she got David Bailey to shoot the actress Anjelica Huston enfolded in the arms of the shoe designer Manolo Blahnik, in a kitschy pose against a Corsican coastal sunset. Grace bursts out laughing when I remind her. "It was pretty ridiculous—there's no one more camp than Manolo. He brought his own clothes and took far more of my time discussing what he was going to wear than Anjelica did. To shut him up we buried him in the sand, with only his head and spotted handkerchief showing."

That time she quit working for Anna Wintour.
At British Vogue, Grace creates a startling series of "sprawling, National Geographic-style photo essays—more than 20 pages long—in which the clothes were so smoothly integrated they barely registered as fashion photographs at all", as the fashion writer Michael Roberts put it. In March 1986, Anna Wintour becomes editor-in-chief. Grace resigns in December: "Anna was much more into 'sexy' than I was." (Coddington rejoined Wintour at American Vogue in 1988.)

On ageing.
"I got really sick last time in Paris, and I was on antibiotics for two months. I push my body too hard, and do have to stop myself now from jumping on a plane. It used to be me who got sent to Russia and China while the older editors like Sheila Whetton stayed behind: but I'm one of those older ones now."
Two for you, Grace Codd Codd. You go, Grace Codd Codd.