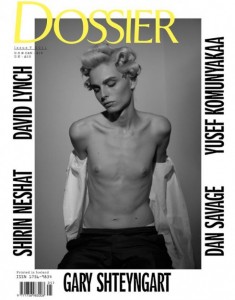 Last week, extremely pretty male model – Andrej Pejic – had his shirtless cover for Dossier (seen above) censored by bookstore chains for being "risque". While the cover showed no more than any Men's Health magazine cover, the magazine has been forced to fund the black-plastic censoring of the topless male.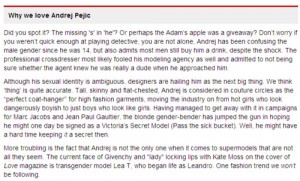 This week, Tits and Ass Monthly (aka FHM) has declared Pejic a 'thing', while encouraging you to pass them the sick bucket in response to his androgyny. (Check out the screenshot of the now-removed snippet, above). Why have they posted the derogatory attack? Well, they decided to name him the 98th sexiest woman in the world.
Seriously? Did a staff member or two seriously misinterpret the prom episode of Glee?
While, yes, Andrej could definitely be one of the most beautiful feminine-featured people in the world, the accompanying 'jokes' left a verbally genocidal taste in my mouth. It was an inappropriately destructive, drawn out and frat boy-esque "no homo".
The 'writer' then goes on to compare and relate him to transgender and female-identified model, Lea T. The defiance of gender expectations truly seems to put you on the offensive, doesn't it, FHM Guy? This kind of blind propagation is the mindless instigator of self-harm and suicide in homosexual and transgender communities. Think before you type.