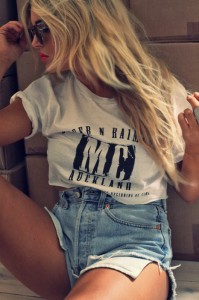 Fake tan is a safe tan, mi amor. If you're addicted to the bronze glow of the sun's rays, the smartest thing to do is switch to self tanner. I know, flashbacks of Tropicana-coloured Lindsay Lohan, right? Unlike the orange disasters of the 90s, newer self-tan products have figured out how to give you a truly believable colour. I'm not saying it's low maitenance, but it is certainly lower maintenance than hyper-aging and skin cancer.
So, for my bronzed babes, here are some foolproof tips to get the perfect tan:
Prep. Don't plan on getting wet, sweaty, or leaving the house for a few hours. Tans always come up very dark before your first shower – especially tinted self tanners – so it is best to cover up in loose clothes and do it before you go to bed.
Exfoliate. Any contact between dry/dead skin and your chosen formula will ruin your self tanning experience. This is where dark blotches form. Pay special attention to your elbows, hands, knees and ankles during your shower scrubathon.
Moisturise. Especially on the aforementioned dry areas, and – if you are self tanning your face – your eyebrows, lips and hairline. The oils in the moisturiser will stop the tan from setting in darker than the rest of your body.
Tan! With something that will protect blotchy hands, that is. Tanning mitts are great because you can dispense the same amount of product on each mitt. Distribute in a circular motion to avoid streaking. Start with small amounts as you don't want to be left figuring out where to rub in any excess product, especially on the face.
The Hands. You don't want to leave them tanless (hello, obvious), so use a tiny bit of whatever is left on the mitt and rub it on your hands, steering clear of your palms.
Mistakes. If any area is looking or feeling too tan, buff it out with a cheap washcloth and some moisturiser.
To maintain a tan, keep moisturised. When you feel it is fading, start back at exfoliating and lead up to an application with less product as you don't want dark tan-on-dark tan.
So which self-tanner should you use? I love tinted versions, as it helps see where product has already been applied. Sun Laboratories is King to me, as it lasts for ages and is flawlessly streak and orange proof. Two comparable alternatives are Palmer's Sunless Tanner & Instant Bronzer and Banana Boat's Summer Color – especially for the ladies who like it really dark the first time around.
Happy (fake) tanning, guys and dolls!