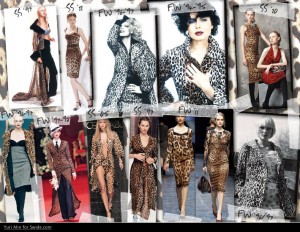 If you didn't already know, Dolce & Gabbana have a webzine called Swide. Tomorrow, fashion editor Yuri Ahn (and Co.) are e-sharing a print story titled "The Story of Leopard" which will trace Dolce & Gabbana's affinity for the print since 1991. A special preview is below, lucky you.
The truth about leopard: we all wonder what the obsession is all about. Leopard is a fashion icon of its own. Therefore the mystery needs unveiling. The seductive yet dangerous appeal of the print has been a keepsake for Dolce&Gabbana since its debut with the FW91-92 collection. Who better than the designers themselves could give an insight? A family inspiration, a fashion tribute, or pure love. It might not need an explanation. Does love?
Don't forget: enter to win your dream shoe collection here!