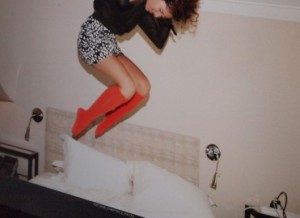 K-Mart are clueing in. While competitors Wal-Mart and Target boast thriving clothing sales, the forgotten megastore have been on the fashion backburner for more than a few years.
Their latest campaign, however, seems to be a foot in the right direction. With American Apparel-esque styling and a model crew of 'real people' (scouted both on blogs and the streets of New York), they are setting up to gear new products towards a younger and more style-conscious demographic.
The shoot took place at The Mark Hotel in New York, where they asked the 'models' to style themselves and pose sans stylist. Their new cost-aware tag line? "Money can't buy style".
The President of Kmart Apparel, Tara Poseley, said their targeted shopper is "the type of person who doesn't care about labels, but rather, about expressing his or her own style", which they can do with new celebrity-collaborative lines by Sofia Vergara and Selena Gomez.