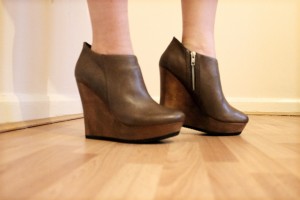 Though I mostly post shoe-related things to my shoe blog, I had to show all you Fashion Masters and Fashionistas my latest obsession.
These Buffalo booties/ankle boots from Zalando are essentially perfect. As I don't exactly tower over people at the five-feet-and-one-inch level, I absolutely adore a skyscraper heel. At the same time, working as a stylist and writer means my days are spent running around like a headless – and hopefully sartorially sound – chicken. Stilettos just aren't practical. When I saw these babies on discount, I had no chance of leaving the browser empty-handed. The wedge and platform gives me the boost I love while keeping me comfortable. Proof: you don't need to suffer to pack a stylish punch!
With the 'comfy mindframe' engaged, I also basketed these Tamaris heeled sandals with leg shaft (quality product down from £44.95 to £13!), a Korres Mango lip balm (not only the smoothest balm on the market, but a reminder of Thailand!), and coconut bath salts from Lavera (again…Thailand!).
Amazingly, all four items still totalled under £100. I definitely had to stop myself from breaking my set budget; Zalando has a selection of items that many other e-tailer's don't seem to invest in. The range was high and the temptation…mighty.