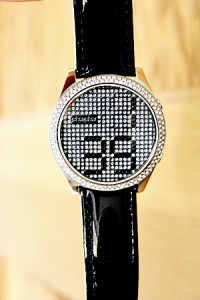 The absolute best accessory I've worn this year has been my Phosphor Appear crystal watch. Typically, I am not a 'watch person'. With my Blackberry almost permanently glued to my hand, it is as good a time-teller as anything else.
But Phosphor watches aren't just timepieces.
The on-trend enlarged face is overloaded with Swarovski crystals. Thanks to mini rotors, even the time itself is crystallized. With extremely advanced technology, the watch emits an electromagnetic field that shifts the position of the crystals as time goes on. It is mesmerizing.
As you can see in the video below, there are also three modes of the watch. Time mode – featuring a twelve hour display, Seconds mode – a 'party pleaser' if you will, and Off mode – which shows an entire screen of crystals.
And since the watch has far exceeded my expectations, I have teamed up with Phosphor to give one away!
Phosphor Appear Crystal Watch Giveaway – Details
To win, you must:
'Like' both Lela London and Phosphor on Facebook.
Comment on the Phosphor wall and tell us why you would like to win the Phosphor Appear.

Competition ends Monday, July 18th at midnight PST. Open worldwide.