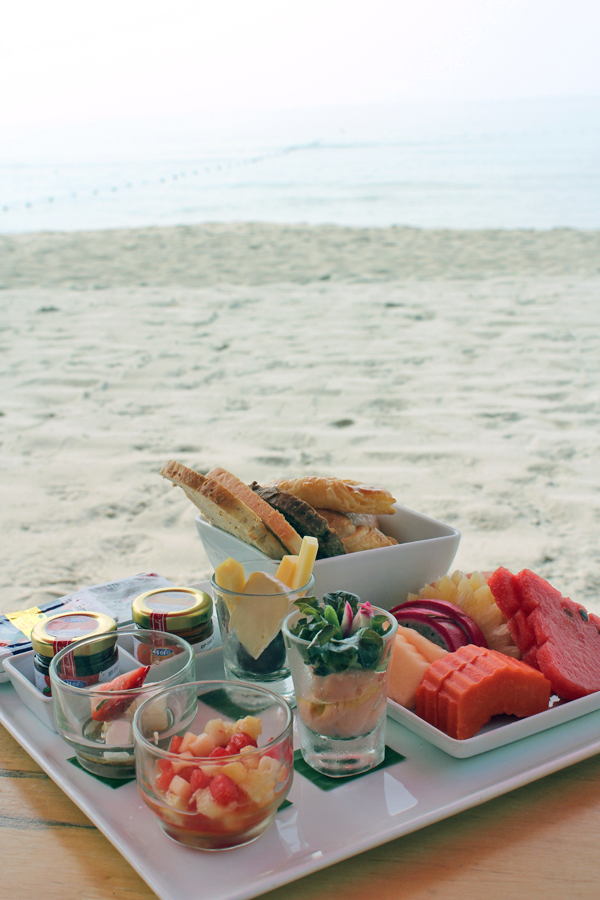 Last week, I went to paradise.
Though I've lived in Bangkok for eight months – and have done a significant amount of travelling, book writing and Thaiglish speaking in that time – I have only now visited my first Asian island.
While Koh Samui is a breathtaking haven of sun, sand and smiles, it was actually The Library that created the paradise. This boutique hotel, an innovative and relaxing hideaway, was the perfect romantic getaway on Chaweng Beach. It had to be shared.
Upon arriving ridiculously early, The Boyfriend and I sleep-stumbled into "The Content" – a check in space with a cozy yet minimalist design – and were welcomed with a refreshing island soda and fresh scoop of fruity sorbet. A delightful difference to the super-processed travel food we had been gnawing over the previous few hours.
Once we stepped foot in our suite, the deal was effectively sealed. As each of their twenty-six residences aligns with their minimalist concept, we were surprised to find a space full of warmth and modernity. With a white and black palette, you can customise the mood of your room via a six-colour lightbox on the wall (we favoured the utterly tranquilizing oceanic blue), as well as many extra light and blind controls. Tres chic. Tres hooked up.
The room also boasted:
A separate reading area, kitted with literature lounges and a spacious desk. Since one of The Library's main attractions is their library, the entire hotel has countless areas for your reading pleasure. (You'll see "The Library" shortly!)
The comfiest bedand pillows in existence. You are also offered a 'pillow menu' with everything from a boomerang to pyramid pillow.
An iMac. An essential alternative to your travel netbook.
A flat-screen tv and DVD player. A perfect way to coax your significant other into watching Moulin Rouge with you (...for example).
A rain shower and jacuzzi bathtub– with all the luxurious amenities and products you would need to feel utterly pampered.
A Lavazzacoffee maker (with complimentary coffee selections). Heaven for caffiene addicts – a true departure from the custom 'kettle and instant coffee' misfortune of every other hotel in Thailand.But, when visiting a beach hotel in Koh Samui, it isn't just about the room. And God, does The Library recognise.

Making your way through the greenery that surrounds the suites – the hotel was actually built around the trees that were already on the land – you come across an empyrean crimson-coloured pool and beach bag lounge area, all of which looks over the crystal-clear waters and beach of Koh Samui. Never crowded and always free of all non-Library tourists, it is an absolute sanctuary.

At the perimeter of this area, you have "The Fit", "The Page" and "The Library".

"The Fit": a crisp, clean and glass-walled fitness room that overlooks the beach. Nothing brings ease to fitness like breaking sweat in front of a sunrise or sunset.
"The Page": 5-star food in an intimate setting. Serving 101 cocktails and a menu of Michelin star-worthy food, it can't be missed.
"The Library": because the hotel's owner observed the tourist trend of books on beaches, the hotel created a large space of literature and DVDs free for guests to 'rent' (many leave their own books when they check out!). Material was available in many languages and many genres. A goldmine.After our first day, we were pretty sure we weren't going to leave. Then breakfast happened and signed our permanent lease of love. Settling into a beach bed at 8am, sand between our toes, we were acquainted with a superior three-course breakfast that left us full for hours. Breads and pastries (with potted jams and Nutella!) come with everything, though you can specify the actual 'breakfast items' you desire. I would reccomend: (take a breath!) a latte, a lime juice, water, fruit plate, salmon-topped scrambled eggs, asparagus, sausage, bacon, and banana pancakes. I promise you won't be hungry until breakfast the next day.

While Koh Samui does have a reputation for a "party-party" atmosphere – it is where many people stay for the Full Moon Party – The Library feels like a secret treasure amidst the madness. In some feat of magic, though it is located on the main road (which is wonderful to walk at night, and has Western conveniences of Starbucks, McDonalds, and the like), the moment you get past The Library's entrance it seems to all dissapear. No sound, sight or smell of tourist dissolution whatsoever.

On our second day, I decided to try my chances as The Little Mermaid and swim off into waters unknown. I got attacked by a crab. Without a word to the staff of the Library, I limped by bleeding leg towards the front desk for a first aid kit, only to be stopped by one of their staff who told me to wait and brought every medicine/plaster/cotton ball back I could need. Above and beyond. This is only one example of their special personal service. With a plethora of cases in relation to The Library's attention to detail, they also left "3-1-1" bags on our bed the night before departure, as well as bookmarks and extra water throughout our stay (I inhale water).

I urge you to cancel any other vacations. The Library is what you've been looking for.