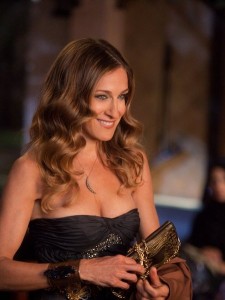 Emily Current and Merritt Elliott – of the denim brand Current/Elliott – are designing a capsule collection of handbags for Kate Spade.
"I copy the dress of an animal because I love to copy God. I think God is the most fantastic designer." – Roberto Cavalli
Camilla Al Fayed, daughter of Harrods owner Mohammed Al Fayed, just bought a controlling stake in Issa. Especially interesting because Camilla's brother, Dodi, was the boyfriend of Princess Diana and also died in the infamous car crash. In addition, Issa is one of Kate Middleton's favorite brands (her much-replicated blue engagement dress was an Issa design). In the first steps towards brand expansion, Camilla will venture into the world of e-commerce, as well as open a store in London.
Armani announced that Rihanna will be the new "global testimonial" (aka face) for Emporio Armani Underwear and Armani Jeans for the brands' fall campaigns. Good move.
Courteney Cox has been given the position of "Home Editor" on Jane Pratt's new lady site, xoJane. According to the press release, Cox will be giving xoJane readers "decorating advice and beauty tips".
Megan Fox published some photos on Facebook "proving" that she does not use Botox. Professional response? "Looks like Megan is just as talented with Photoshop as she is in entertainment," says plastic surgeon Dr. Nicholas Vendemia. "Those lines on her forehead are totally fake. Muscles in the forehead and brow simply don't create curved wrinkles like that. The wrinkles Megan is showing us don't coincide with brow anatomy, nor do they match the facial expression she is making." Dermatologist Dr. Vince Afsahi said: "The photo looks altered. The muscles in the forehead do not usually create an arc-like pattern seen in the photo. Anatomically [it] does not make sense." And! Dermatologic surgeon Dr. David Sire quips, "I have never seen the frontalis [forehead] muscle do this unless the muscle was surgically cut. It appears as if she is frowning and elevating her brow at the same time. Quite a feat!"
Victoria Beckham delivered a baby girl who weighed seven pounds when she was born, arrived in the seventh hour in the seventh month on the seventh day of the week, and seven was David Beckham's jersey number for Manchester United and the English national team. Name of the future fashionista? Harper Seven.
Sarah Jessica Parker left Halston Heritage.
Though it was only released on June 23rd, Justin Bieber's fragrance, 'Someday', has made more than $3 million dollars for Macy's, making it the fastest selling fragrance…ever.