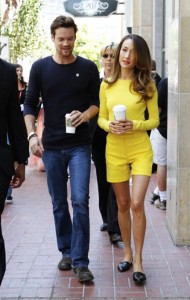 I could be wrong (it happens very, very rarely), but I think Maggie Q's appearance at Comic-Con 2011 this weekend has set her up to become a fashion plate. The "Nikita" actress was spotted around the San Diego Convention Center with co-star Shane West wearing a canary yellow Max Mara body suit with MaxMara scuba shorts, black flats and orange lipstick. Not a look for the introverts, yet she still looks impossibly chic.
Major girlcrush blooming.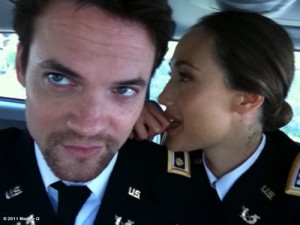 "Okay, I'm in uniform too, but I'm not as hot :) …..I'm melting from the heat. Does that count?" – @MaggieQ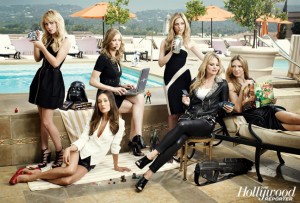 Maggie with one of my biggest personal style icons, Sarah Michelle Gellar (see: Buffy).
Q: Or somebody asks 8,000 times: "Could you really beat someone up in a bar?" "Do you think you could really kill someone?" I'm like, "I think anyone can kill someone."
GELLAR: I still get that question.
Q: I think to myself, "I could beat you up right now."
GELLAR: I think I've actually answered with that before.
Q: Oh, have you? I'm going to steal your line."
– Maggie Q and SMG discussing comic-con questions.