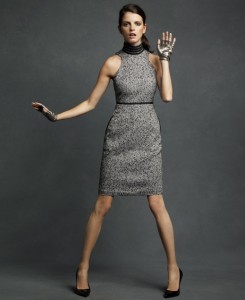 If you have yet to hear of Macy's "Impulse" department, you will soon find it's hype inescapable. Why? Karl Lagerfeld has designed a capsule collection for them (no really, I'm serious)!
With a campaign full of Coco Rocha goodness – shot in Lagerfeld's library in Paris – the 45 piece collection (priced between $50 and $170) is sure to fly off the racks. Karl said:
"To me Macy's is the perfect department store in the US where everybody can find what they're looking for without ruining their budget."
With that said, when it comes to designer collaborations, we can't all afford to buy one of everything, can we? For that reason, I have curated a list of the ten best pieces from the collections – the ones that scream "Chanel".
1. Dress,
$124
.
2. Blush dress,
$99
.
3. Ruffled dress,
$119
.
4. Collared dress,
$139
.
5. Brown jacket,
$119
.
6. Scarf,
$49
.
7. Leather short,
$79
.
8. Tweed dress,
$129
(top pick!)
9. Belted tweed jacket,
$169
.
10. White blouse,
$99
.
The collection goes on sale at 235 Macy's across America and on macys.com on August 31.