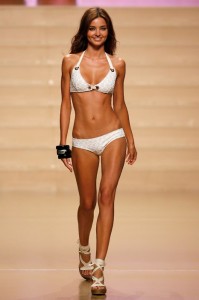 I'm not sure if this is awesome or frightening, but scientists have apparently discovered a way to tan skin from the inside out. Though it's still in the 'baby stages', an implant – the size of a grain of rice – has been developed that will stimulate melanin production when placed under the skin, giving a cancer-free glow. Seems much riskier than a tan from a bottle, but safer for those obsessed with tanning beds, since the effects last three months.
For New York Fashion Week, Marc Jacobs has pushed back his eponymous show from his usual Monday evening time slot to Thursday, September 15 at 8:30 p.m. Why? The delay "will allow Jacobs and his staff to make up for time lost this past weekend when the entire design and sample room staffs were scheduled to work before Hurricane Irene intervened". The Marc by Marc Jacobs show has also been bumped up to Monday. This just might complicate editors' flights from NYFW to LFW, which kicks off the following morning.
Models in movies news! With Natalia Vodianova's co-starring role in Belle Du Seigneur creeping up upon us, we have just found out that Gemma Ward (who previously got Mermaid-y in Pirates of the Carribean) has been cast in Baz Luhrman's "The Great Gatsby". The film adaptation – of one of my favourite books – will also star Carey Mulligan, Tobey Maguire, and Leonardo DiCaprio.
In the strangest news of the day, Chanel designer Karl Lagerfeld has decided to help film a rap video! Women's Wear Daily (WWD) has reported the couturier recently rolled into into the legendary San Tropez cafe "Senequier" to film a segment of French recording artist Jean-Roch Pedri's latest music video. Though the song title is not yet known, we do know that Snoop Dogg is involved with its production and will also appear in the video. Looks like Kanye West's designer devotion and Diddy's last fashion-filled album – Last Train To Paris – has started something of a trend.
Remember, back in March, when Kim Kardashian released her single "Jam (Turn It Up)"? (I know, I know, you tried to forget). Well, she shot a Hype Williams-directed music video to go along with it but didn't get to the stage of public release. Until now. It's tasteless and dirty-looking, in every sense of the word, with enough booty shots to set you up for life. As much as I try to celebrate the Kardashian empire for their coinciding business savvy, this is so, so inexplicably degrading.