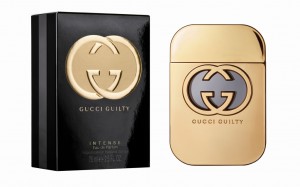 Guess who's coming out with an incredible new Eau de Parfum, guys?
If you couldn't tell by the interlocked G's (or…ahem…the title), it's Gucci! As a follow up to the gargantuan success of Gucci Guilty (and the incredible campaign featuring Evan Rachel Wood and Chris Evans), Gucci Guilty Intense has ravishing top notes of mandarin and pink pepper, middle notes of lilac, violet and heliotropine, and base notes of patchouli – Gucci's fragrance glory. And that's just in the ladies perfume.
The male fragrance…well, it's pure sex. Top notes are lavender, coriander (so fantastic) and amalfi lemon, middle notes are african orange flower and neroli, and base notes are patchouli and amber. In fact, the men's fragrance is so deliciously complex, I would recommend it as a unisex fragrance.
Both will be launching on the 24th August, 2011.