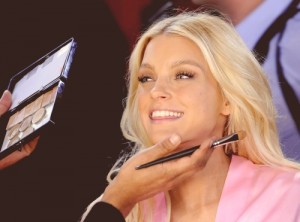 I have raved and raved about Jessica Stam for years. Almost ten years, actually, from her fresh-faced entrance into the industry as Steven Meisel's muse. The Canadian model is a fashion fixture with one of the most striking faces working today.
Lucky for us? One of my favourite websites, Into The Gloss, delved into Stam's impressively low-key beauty regime. Low-key for a model, anyway. Her secrets?
Balm! Added to the eyelids for a sheen, or her eyelashes if she foregoes mascara.
Old Spice. Yep, the men's deodorant.
She adores Egyptian Magic">Egyptian Magic. (But seriously, this product is absolute gold.)
Viviscal supplements. Both to keep her hair healthy and help it grow!
Herbal Essences shampoo and conditioner. The "Hello Hydration" range fools even industry experts!
She eats "whatever [she] wants". We call that the model gene. (Granted, she does so "in moderation" and works out.)