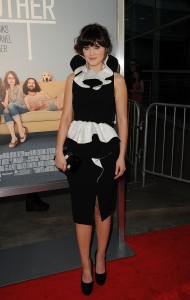 Over the past two days, two of my favourite celebrity ladies have really impressed me on the fashion front.
First, we have Zooey Deschanel – the actress commonly confused for Katy Perry who gained major fame in Elf, 500 Days of Summer, and will soon appear in "New Girl" on Fox). Though she was stuck in a must-wear-black-tights uniform for years, she has recently started becoming a little more adventurous with her fashion choices.
At yesterday's LA premiere for "Our Idiot Brother" (which took place at the ArcLight Cinemas), Zooey wore a monochrome Moschino dress from the Fall/Winter 2011 collection. Though the look is two-toned from top to bottom – where she sports a black pair of YSL Trib Toos – the ruffled detail at the waist and her oversized, detachable collar keeps it very Zooey. With a wavy, side-swept bun and super-long false lashes (only on her lower lash line), she is the farthest thing from Plain Jane.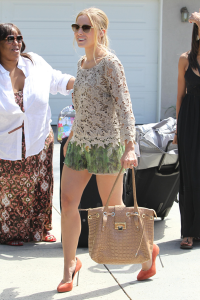 Then we have the utterly gorgeous Kristen Bell on her way to a private 'swag bag' party which took place at an undisclosed residence in Brentwood, California on Sunday. The beautiful blonde paired together two separate Alberta Ferretti Spring/Summer 2011 pieces that I will now be seeing in my fashion dreams. They happen nightly.
The separates were a taupe, crocheted long-sleeve top paired with a grass-green skirt which was also covered in an apricot print. Accessories-wise we have the crocodile Jimmy Choo "Rhea" tote, orange stiletto-heeled pumps and gold-trimmed sunglasses. Nothing 'matches' but every item compliments the next. My kind of style.