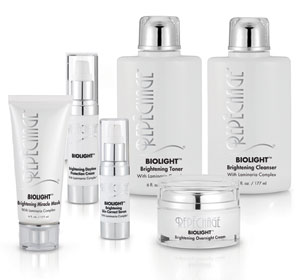 I am one of the lucky ones with easy to care for skin. While I definitely 'suffer' from sensitivity, it's nothing more than avoiding abrasive products to stay fresh-faced with clear skin.
While I don't take it for granted, I definitely don't maintain a specific skincare regime. I'm a relentless tester of new products and tend to use something whatever cleanser, exfoliant and moisturiser is nearest in the morning.
After trying Repechage's Biolight products, I have changed things. The system boasts breakthrough technology in the treatment of hyper-pigmentation and uneven skin tone using ground-breaking peptide and marine technology (without the typical inflammation and irritation of the skin associated with this genre of skincare).
The products – suitable for all ages, skin types and ethnicities – combine some of the best skincare ingredients (ie anti-inflammatories, brighteners, collagen-boosters) on the market and utilise them in a completely new way. We're talking Goto Kola, Hexapeptide-2, Liquorice Root, Bellis Daisy, and Willow Bark Extract. While I don't nessecarily need any of these things for my skin, using the system for just two days made my skin brighter, softer, and more touchable than ever before.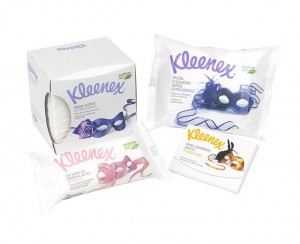 In combination with Repechage's Biolight, I have welcomed Kleenex's brand new facial cleansing range into my regime!
I know what you're thinking, but you might be intrigued to find out that Kleenex actually started in skincare and moved onto their reliable tissues later on. Basically, they have used four great products to get back to their roots.
Eye Makeup Removal Wipes:
"These soft, quilted wipes contain natural fibres to provide a gentle and effective cleanse, removing your "mask" at the end of the day. They are suitable even for sensitive skin and the Eye Makeup Removal Wipes effectively remove stubborn waterproof mascaras. RRP* £2.99 for 24 wipes."
The only make-up I can't part with is mascara, meaning my eye area is always the most annoying to cleanse. These work beautifully, quickly, and thoroughly.
Facial Cloths:
"These gentle, quilted, soft sheets made from natural fibres are not only larger but also softer than cotton wool. They are soft and strong when wet or dry so you can use them not only while applying cleanser and toner, but also while removing face masks and even nail varnish. RRP* £1.99 for 30 cloths."
I use these at the end of the day when I don't want to use my whole skincare system but want a clean face for sleep-time. I also use them to help work the Biolight cleanser into my skin come morning time, which makes it squeaky clean!
Shine Absorbing Sheets:
"An essential for every busy woman's handbag, the Shine Absorbing Sheets provide an efficient and discreet way of blotting excess shine caused by oil that builds up on your skin during the day. The sheets remove the shine without disturbing your makeup so are fantastic for quick touch-ups to keep you looking immaculate. RRP* £2.99 for 50 sheets".
I don't get shiny, but to test these out I layered an oil-based moisturiser over some liquid foundation, and these sheets took the 'sheen' away without taking colour product off!