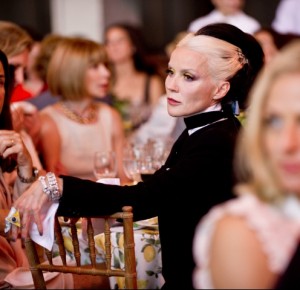 Daphne Guinness (aka FASHION QUEEN) has earned herself a collaborative deal at M.A.C. Word around the industry is that her colour collection will consist of "rich, seasonal hues" and come out on Boxing Day (aka December 26).

Lindsay Lohan's little sister, Ali Lohan, has recently sparked plastic surgery rumours in the fashion world. As these sort of rumours put a model's career at stake, her agency – Next – has issued a statement denying the rumors, and explaining that the drastic change was due to natural aging. Do you buy it?

Next Tuesday (aka September 13th), Marc Jacobs will turn his Bleeker Street boutique into a pop-up shop and tribute for his longtime friend Debbie Harry (aka Blondie). For a very limited time, it will sell the new Blondie album and various fan items that include exclusive T-shirts (for $35).

American Apparel – a company often criticized for everything from it's sexuality to design practices – recently launched a plus-size model search. The way they went about it has been received as slightly offensive and unknowingly encouraged blogger Nancy Upton to make a joke out of it by posting sexy photos of her gorging on food. The best part? She's winning said model search.

Hussein Chalayan is launch a capsule "drip-down" collection of key pieces from the main Chalayan line and calling it "Chalayan Grey Line". The collection will consist of more affordable (starting at $140) and wearable pieces, ie. simple shift dresses and loose cottons done in greys and whites. It will be shown to buyers at New York Fashion Week from The News showroom.

Vivienne Tam is collaborating with Chinese athletic brand owner and Olympic gold medalist Li Ning to launch a fashionable line of yoga wear for Spring/Summer 2012. The collection will consist of 20 pieces that boast features such as being antibacterial, having moisture-wicking properties, UV protection, as well as deodorization. It will be available wholesale, starting at $36.