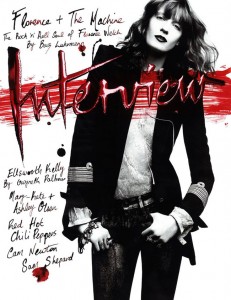 Frida Giannini and Karl Lagerfeld's favourite songstress, Florence Welch, covers the October issue of Interview Magazine. I love the black and white photo against the blood-red text – using Florence's hair colour 'against' her, if you will.

Daphne Guinness has lent some of her designer couture clothing collection and a number of skyscraper heels to the Museum at the Fashion Institute of Technology in New York for an upcoming exhibition entitled "Daphne Guinness" (who'da thunk…).

Fashion 4 Development, a partner of the United Nations, has named Franca Sozzani – editrix of Italian Vogue – their first Goodwill Ambassador. The program endeavors "to implement creative strategies for sustainable economic growth and autonomy through diplomacy, business, media, and the creative industries" and will use fashion to spur economic growth in developing nations.

"Franca Sozzani is a perfect choice to lead our mission as goodwill ambassador. Her professional career as well as her philanthropic efforts are truly an inspiration that will garner the support of fashion elite worldwide."
– Evie Evangelou, co-founder of the World Fashion Development Programme and Fashion 4 Development
Fyodor Golan was this year's winner of Fashion Fringe (design-based talent competition at London Fashion Week)! Previous winners include Jena Theo, Basso & Brooke, and Erdem.

Kanye West's Paris show is finally confirmed by the mutha****in' Monster himself (via Hilary Alexander)…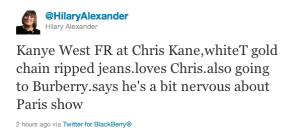 Though Fashion's Night Out has only just become a 'thing' outside of major International cities, the end may be near. Vogue insiders are saying it is now too much work for too little pay-off. While smaller boutiques benefit from the larger crowds, big retailers feel that the revenue generated is too small to warrant FNO's continuation. (The world IS ending in 2012!)

The former VP of women's design at J. Crew, Marissa Webb, is leaving the company to "pursue other opportunities". Her successor is Tom Mora, who has been with the company for over 10 years and is currently head of weddings and special occasions.

Marking the first "Tweetwalk" for any brand, Burberry 'live tweeted' their Spring/Summer 2011 collection from backstage yesterday, posting photographs of each look on Twitter just moments before the model stepped onto the catwalk. Anyone else remember the days where each collection was hidden from the public a la Tom Ford?