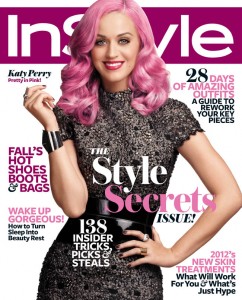 Katy Perry (and her perfectly pink hair) got the October cover of InStyle – and I love it! The dark nails and textured styling are super appropriate and charming for this Fall cover.

This past Sunday, supermodel Gisele Bundchen was driving her Cadillac SUV down Route 6 though Barnstable when she was pulled over for driving 15 mph over the speed limit in a 55 mph zone with two babies in the backseat. The son, a certain William J. Hopper, of the statesman that let her off with a warning then tweeted: "He let her go, but in return she signed her autograph on the citation with kisses."

Early next year, VH1 will start to follow fashion stylist June Ambrose for a new reality series. The Hollywood Reporter said camera crews will "follow Ambrose and her team of assistants as they serve a mix of up-and-coming and established celebrity clients, including actors and musicians, who want to make over their looks and brands". June's clients have included the Dave Matthews Band, Sean Combs, Alicia Keys, Kelly Ripa, Kim Cattrall, Jay-Z and Mary J. Blige.

Model Dree Hemingway will be playing a porn star in Sean Baker's upcoming film, "Starlet".

The City of West Hollywood (WeHo) is one step closer to banning the sale of fur. (It's okay, fluff-lovers, the faux is just as luscious looking, nowadays!). A recent debate on the subject lasted until the early hours of this morning, where those who are pro-fur argued the law would be anti-business and questioned whether a ban would lead to a leather and/or meat ban, as well. The final vote has yet to be reached, but there is a current tip towards the ban.

Naomi Campbell's generous, Russian billionaire boyfriend has commissioned a 25 room, eco-friendly retreat for the supermodel in honor of her 41st birthday! The retreat/mansion/haven will be built on a private Turkish isle called Isla Playa de Cleopatra and, according to architect Luis de Garrido, "is completely energy and water self-sufficient and features an amazing indoor landscaped terrace". It is also shaped like the eye of Horus, an ancient Egyptian deity. Check it out.