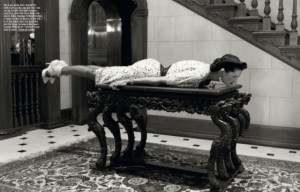 You've seen the Vogue Italia cover, now you can see Stella Tennant planking in the accompanying editorial.
Apparently, though the CFDA has a recommended age limit of 16 for models walking in shows, it has been reported that 14-year-old Kylie Jenner (of the "Kardashian Klan") will walk in Avril Lavigne's Abbey Dawn show during Fashion Week. I guess when Avril's boyfriend is Kylie's half-brother (Brody Jenner), the rules need not apply. Both Kim and Kourtney Kardashian are expected to sit front row at the show.
Fashion designer Nicole Miller will feature as one of the designers getting advice from Joe Zee in the second series of his Sundance show "All On The Line".
"Have you noticed how much make-up girls are wearing these days? It's because it's cheaper than buying clothes. I love beauty products. At Gucci I'd spend days working with a make-up artist getting the show to look right. I was never drawn to walking in women's shoes that's maybe why some of them hurt. I never had a desire to wear the clothes. I'm probably the only man in England who doesn't want to dress in drag. But make-up? That I'm serious about." – Tom Ford to the Telegraph
Blonde model trend! First there was Heidi Klum with Project Runway, then there was Angela Lindvall who was recently picked to host a special all-star edition of Project Runway. Now? Fellow sunshine blonde Molly Sims is commandeering the latest Runway spinoff, Project Accessory.
When asked what he would save if his house were burning down Kaiser Karl Lagerfeld responded, "Which house? I have several." Not newsworthy, but note-worthy.