MFW S/S 2012 – Roberto Cavalli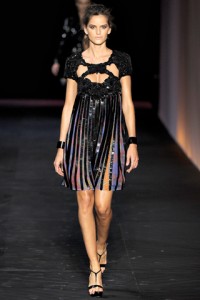 I'm pretty sure Roberto Cavalli has earned himself the rights to the phrase, "Going For The Gold". His Spring/Summer 2012 collection was practically blinding. Producing a brain twinkle similar to the sensation you get after staring into the sun for too long, this renaissance collection was the perfect way to end Milan Fashion Week.
The feel was light and sensual, though touted laborious detail. Gold sequins dances around, and even outlined, expert pleating. Garments opened in such a way that floral prints would reveal themselves only upon movement. There was even leopard-printed mousseline. Le sigh. Gold standard, in every way.