NYFW S/S 2012 – Oscar de la Renta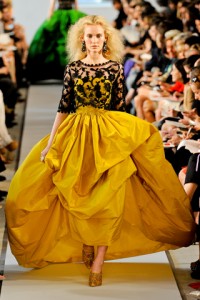 While most fashion shows build to a sort of crescendo of the biggest and most intricate pieces, Oscar de la Renta kicked things off dramatically for his Spring/Summer 2012 collection with enormous, silk taffeta ball gowns. The show was more energetic than I've seen from Oscar's past few seasons, yet somehow he still accounted for his popular ladies-who-lunch fanset.
The eveningwear was – as always – better than anything I could predict. Though I always review Fashion Week shows with my top five looks, I was close to sharing the entire collection. Fur, sequins, gold lame, more and more taffeta; I gasped when Lindsey Wixson came out in a barely-pink silk chiffon, ostrich feather gown – the movement was unreal. The edgy vibe to his glamorous showing was also hitched up unexpected soundtrack from Led Zeppelin and Pink Floyd.
(I also thought this would be the perfect opportunity to include a video of Oscar de la Renta serenading Sarah Jessica Parker at Fashion's Night Out NYC. Cutest thing ever.)