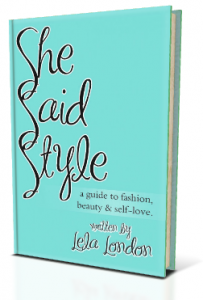 Guess what, lovely readers? For the month of September, my first book – "She Said Style" – is being sold for almost half price! Just $10, available internationally, delivered instantly!
Stylist and fashion editor Lela London has spent her life creating and compiling tips and tricks that every woman wishes she knew. From a style icon-worthy dress sense to the secrets behind the flawless face, a priceless number of insider tidbits have all been revealed in her first book: "She Said Style".

As a wonderfully wise guide to fashion, beauty, and self-love, Lela's wit and knowledge will excite you into tiers of panache and cool that are assumed to be reserved only for celebrities.

She Said Style is a must-have for every woman, being purposefully free of high-and-mighty fashion dictatorship. Every page is practical, customized and intimate in a way that will stick with you through the rest of your sartorial life. Every age, income, skin colour, personality and diversity is not only accounted for, but celebrated.

From closet inventories to trend-navigation techniques, body worship to body manipulation, and shopping secrets to bargain guides, there is enough here to elevate you to dream-like style savvy.
She Said Style is a valuably charming and ultrachic essential for every woman. Best of all? It is delivered instantly to your e-mail address by PDF.
Get your copy of She Said Style today ON SALE for just $10.00!
She Said Style: The Fastest Way To…
Cultivate personal style.
Love what you see in the mirror.
Get everything you need – without going over your budget.
Build confidence that lasts.
Get the perfect body (with secret wardrobe tricks!)
Snag the polish of your style icons without the need of a personal stylist.
…and much more, guaranteed.