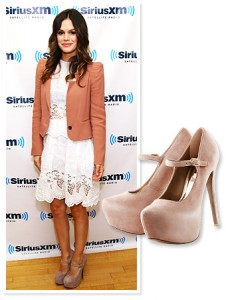 Rachel Bilson recently announced that she is teaming up with stylist Nicole Chavez to launch ShoeMint, a JewelMint-inspired line of shoes which will only be available online. And we already have a preview! The actress gave us a look at one of her designs today when she stepped out in a pair of suede, platform Mary Janes. The heels will be available on ShoeMint.com this November for only $79.99!

Tyra Banks is a New York Times best-selling author. This is not a fire drill. The ex-supermodel's debut novel, Modelland, has launched in the number two spot on the New York Times' bestseller list for children's chapter books.

Olivia Palermo's blog – eponymous by name, eponymous by nature – has finally launched! The first few entries consist of a welcome post, an ode to La Dolce Vita and Stubbs & Wootton, "How to Rock: Leather Shorts", and much more. With over ten members of staff, it looks like it will be quite something!

California has just passed a bill which will make it illegal for children and teens under the age of 18 to use a tanning bed. It's the first state to do so (and hallelujah, may I add).