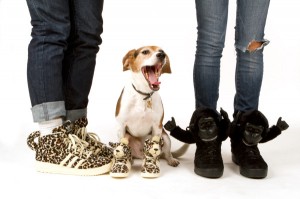 The first look at Jeremy Scott for Adidas Spring/Summer 2012 has arrived! As these are the only non-heels I get really excited about (which my shoe blog can confirm), I am in instant animal sneaker love. Thank you, Pablo Olea.

Alexa Chung has been talking to Teen Vogue about her "It-Girl Problems", ie. she spent her entire wardrobe budget for "24-Hour Catwalk" (her upcoming TV show) on a single Balenciaga leather jacket. She joked that she will have "10 episodes to do and nothing to wear". I wish my problems were this Balenciaga-related.

I don't think Jean Paul Gaultier will be looking forward to any coverage in Vogue any time soon. In a recent interview, the designer decided to bare all in when the topic of fashion films and The Devil Wears Prada came up. Ever wondered what industry insider's thought of the rumoured Editor in Chief ice queen? In his own words?

Anna Wintour is a lot more monstrous than she is described!
The New York Times put up quite a brilliant article regarding Sex and The City, Christian Louboutin, and how Manolo Blahnik got stiletto status. Check it out here