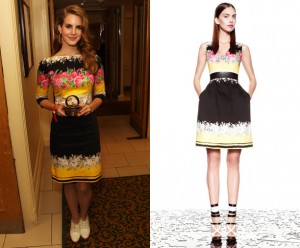 At the Q Awards, beautiful songstress Lana Del Rey was the recipient of the "Next Big Thing" award (which she is). Not super-fashiony news, I know, but LOOK at her Prabal Gurung Resort 2012 floral print dress! Dead. The white brogues add that perfect touch.

If you are at all aware of fashion on Twitter, you probably follow DKNY PR Girl. Though the 'Twitter celebrity' has kept her identity a secret (making us all woner, "Who is @DKNY?"), she has actually quietly revealed all!

Say hello to Aliza Licht, the Senior Vice President of Global Communications at Donna Karan International (via her video posted to Tumblr).




Karl Lagerfeld is launching a new line with Net-a-Porter! Seriously, when does he sleep? For a January 25th release date, the genius designer is creating "Karl"; a 100-piece women's collection based heavily on denim and leather. A mens collection will follow for Autumn/Winter 2012.

Founder and executive chairman of Net-a-Porter, Natalie Massenet, said
"We believe in this collection based on Karl's talent, his global appeal and the product itself. It's a very strong, well-edited collection with a great mix of street attitude and timeless chic. It also is an entire wardrobe that mixes and matches well with itself."
At Teen Vogue's "Fashion U" classes this past weekend, over 30 fashion industry heavyweights gave their guidance and regaled stories to a large group of young, wannabe name-to-knows. One very poignant note from the weekend? Proenza Schouler now "care less about what the critics [have to say] and more about the kids on blogs … their responses are pure, and instinctual".

Up until now, my perfume collection has only consisted of spray fragrances or solid bar fragrances. Not too far from now, it may include "Swallowable Parfum": a cosmetic tablet/pill (literally) that enables human skin to emit a genetically unique scent about who we are and how we perform our identities. Basically turning our skin into an atomizer.

I can't lie…I really want to try this. Would you?