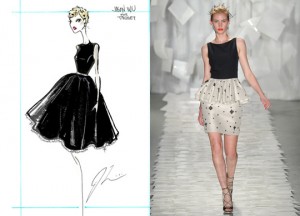 Now that Jason Wu has been confirmed as the next Target collaborator, we are already being teased by what's to come! Above, we have a sketch of a Jason Wu for Target design next to one of his Spring/Summer 2012 runway looks, for reference. The collection will launch February 5, 2012, and the teaser video below already has me overloaded with excitement.




At the end of March 2012, London's Design Museum will be opening a retrospective of Christian Louboutin's 10-year-long rise to the top of the shoe game!

Kanye West's debut collection was apparently more high risk than many thought, as he "took out motherf—ing loans to get the best models". One of those models, the exquisite Chanel Iman, has also sparked rumours that she might be Kanye's new girlfriend.

The Council of Fashion Designers of America (CFDA) have scheduled the Spring/Summer 2013 shows at Lincoln Center to start on September 13, 2012. A week later than usual. Why? They don't want to force anyone to work over Labor Day weekend. Unfortunately, this means that the succeeding shows in London, Milan, and Paris will have to be put on hold to avoid an overlap.

Milan isn't on board. The Italian Chamber of Fashion has complained that moving shows like Max Mara and Gucci back any further would mean they would not be able to send their orders into production quickly enough to satisfy their buyers.

This means London Fashion Week and Milan Fashion Week could show at the same exact time. Conde Nast (the publisher of Vogue, W, Glamour, etc) representative Jonathan Newhouse, the international charmain, said his editors will choose London over Milan.

Can a fashion week work without the likes of Anna Wintour and Franca Sozzani? I think a change will have to be made on someone's behalf to keep all 'fashion cities' happy!

If you weren't one of over 600,000 people who went to view Kate Middleton's Alexander McQueen wedding dress while it was on display at Buckingham Palace, it's unlikely you ever will. After the exhibition closed yesterday, a source at the palace said that Kate is "keen to ensure that the [packed up] dress survives undamaged for as long as possible, and so this inevitably means limiting the number of times that it is transported or displayed."