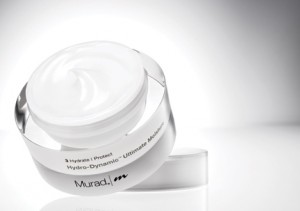 Kicking off what could only be described as "Beauty Day" at LelaLondon.com is super skincare brand Murad!
Last week, I was invited to an intimate event hosted by Dr Murad himself, as well as product developer (and recipient of the incredibly handsome Murad gene), Jeff Murad. Reason being? Murad have dipped their first toe into the pool of make-up!
Before we get into those – I know, such a tease! – it is definitely worth taking a look at a new product from one of their separate collections – the Hydro Dynamic Ultimate Moisture. While I certainly wouldn't categorise my facial skin as dry, this "uber-rich, intensely hydrating, all purpose cream provides instant and long term relief from dryness"…well…they kind of said it all, haven't they? It has been a perfect, soothing treat for dry spots.
Handy hint? Mix it in with your body moisturiser. The results will speak for themselves.
But on to the new range! Their make-up conscious collection called "Hybrids" consists of two multi-tasking skin primers and two eye products.
The skin primers are fantastic – just what you would expect from a brand at the top of their skincare game.
First, there was the Hybrids Skin Perfecting Primer Matte Finish: a product that would typically turn me off (strong personal aversion to looking matte!). In actuality, it is awesome. It creates a strong canvas for foundation while waving a magic wand over imperfections – all without the dreaded cardboard face effect!
The (oil free) Hybrids Skin Perfecting Primer Dewy Finish appears to do the exact same thing (no complaints!) yet boasts light-enhancing minerals which give you a natural glow.
The Hybrids Eye Lift Perfector and Hybrids Eye Lift Illuminator both lift, hydrate and depuff the eye area while minimising dark circles. The difference is that the Illuminator has a neutralizing violet formula which offers a little something extra for those of us who need to fake a good night's sleep. *Hand raise*
I can't wait to see what Murad thinks up next.