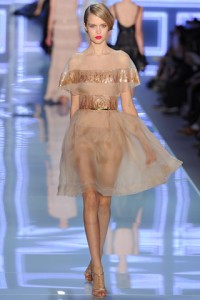 With a controversial couture collection under his belt, Dior's temporary stand-in for John Galliano – fashion designer Bill Gaytten – showed an excellent compendium of uncompromised quality for the label's Spring/Summer 2012 collection.
Gaytten showed 'wow' pieces without a Galliano-type 'wow', and I think that is what truly made this special. By choosing a 'safer', more classic aesthetic, the tailoring and construction shone through and left us with countless options for future investment pieces. Expert draping, the creamiest gazar, classic bar jackets and much more. Check out Karlie Kloss in the finale look of sheer organza, if your wallet dares.
Christian Dior Spring/Summer 2012? A statement of romantic intellect and adaptation.