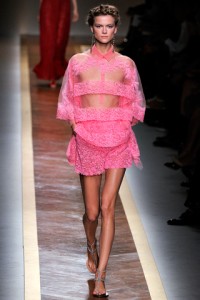 Pier Paolo Piccioli and Maria Grazia Chiuri are quite the dream team. The Valentino designers took risks this season, utilising what some would consider to be far too many flowers and far too much lace and embroidery. In fact, it was – as Goldilocks said – just right.
Of the ultra-fresh collection, Piccioli said "fashion is a dream, and in this moment we need dreams". Especially dreams for Hollywood's greatest, who can find a year worth of red-carpet dresses in their Spring/Summer 2012 collection.
Inspirations came from Georgia O'Keeffe, Tina Modotti, and photographs by Deborah Turbeville, which inspired me in turn. I am lusting beyond belief. Valentino hand-painted florals and inset lace into paper-thin leather, for chrissakes. They even used it on a trench-coat! Faint.