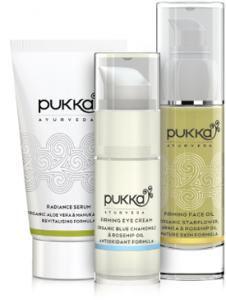 If you already love the brand's teas (like I do!), you are bound to fall in love with Pukka Ayurveda Skincare. Created by Pukka Herb's Ayurvedic practitioner and herbalist, Sebastian Pole, Pukka Ayurveda Skincare welcomes highly concentrated and sustainable oils, herbs and fruits (which have used a CO2 extraction process) into your skincare regime.
Ayurveda is the celebrated Indian philosophy of health – and beauty, to coincide – and the product I have used that really brought this philosophy to life was Pukka's Nourishing Brightener. Though it looks like grounded woodchips, the Nourishing Brightener is actually a luxurious dry exfoliant, packed with almonds and bilberry, that you mix with your cleanser to brighten your complexion and slough away any dead skin. Best exfoliant I have used in years. Incredibly – for such a highly concentrated product – it is only £13 for 15g!
Additional products in the new line a cleanser, toner, day and night creams, serum, face oils, and an eye cream; all as nourishing as the last, and none of which will break the bank. Check them out for yourself at Harrods and Wholefoods!