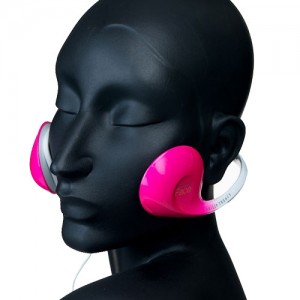 In 2009, Slendertone Face was launched. This revolutionary device offered a – scientifically proven – face lift without surgery. Obviously, it became a waiting list-only item.
How does it work? Basically, the Slendertone Face sits on your cheek area like a set of headphones. Inside the padded area (which rests below your cheekbones), gentle electrical impulses get to work on toning and exercising your facial muscles which result in a slow-down of the aging process.
Now, improving on the already-stellar device, we have Slendertone Face by Philip Treacy. Yep, that Philip Treacy. The world-famous milliner has decided to create a 2.0 version of Slendertone Face which offers longer duration functionality as well as extra 'workout' programmes.
The world's first natural face lift has been re-born in the most delicious way! I was intimidated to try the device at first, as I have never used anything 'heavier' than a face mask on my face. However, with controls that allow you to set your pulse's strength, it felt comfortably customizable. In all honesty, it was relaxing and completely pain-free.
And the results? I have to first disclose that one of my nicknames is 'Babyface'. As someone who gets IDed even walking into a bar, I am not the target customer. But I'm sold. Out of the five programs (Lift, Radiance, Massage and the new Advance Lift and Complexion), I chose the latter and literally watched my perma-eyebags disappear. On setting 15 from 0-99.
I have no problem guaranteeing a change in your skin when the Slendertone Face is the real deal for someone who expected no results. (And each piece of 'face furniture' – Philip Treacy's words! – is hand-painted in the UK!)