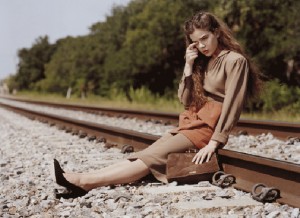 Though there have been provocative ads featuring young teenage models left untouched by ad regulations for years, a photo of teenage actress Hailee Steinfeld sitting by a train track has been banned in the UK. The image – part of Miu Miu's Fall/Winter campaign – was banned for being "irresponsible because it depicted a child in an unsafe location", to which I say…


I feel like wearing snakes as clothes.

Carolina Herrera has announced that she plans to produce the wedding dress she designed for Kristen Stewart (aka Bella Swan) in Twilight: Breaking Dawn. I can only imagine the type of themed weddings that will come out of this!

"I wanted to create a magical moment that they had at the wedding. She's an innocent girl that is finding her first true love, so there is romance, there is magic, there is everything together."
– Carolina Herrera
Two of my favourite models (and rumoured sapphic sisters), Freja Beha Erichsen and Arizona Muse, were photographed hanging out at Los Angeles' Chateau Marmont this past weekend wearing two dresses from Chloé's Spring/Summer 2012 collection. This, without the brand overtly saying so, suggests that the duo have booked the campaign!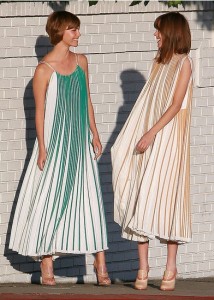 Naomi Campbell continues her decades-long world takeover by becoming editor-at-large for the new German and Russian editions of Interview Magazine. According to the official press release, Naomi will "regularly meet great and outstanding personalities for this in-depth feature interview".

Your daily dose of Karl Lagerfeld…coming up! International newspaper "Metro" (everyone's favourite half-asleep morning read) has appointed Uncle Karl as "guest editor" for a day at Metro's Paris offices on February 7th, 2012.

As "Metro" launches it's Autumn/Winter 2012 show coverage the same day – it will be brilliant press for him. He intends to provide his infamous commentary as well as some of his gorgeous illustrations.

And there's something in it for you, too! Though it hasn't been launched yet, there will be a global web site launched where you can submit your "fashion statements" to a Look Book competition for a chance to fly to Paris and be an editorial assistant on February 6th, and lots of Lagerfeld swag, to boot.

Alexander McQueen's junior, lower-priced line – "McQ" – is opening a flagship store on Dover Street in London in Spring of next year! Preceding the opening, the line will also premiere it's first-ever show for London Fashion Week.