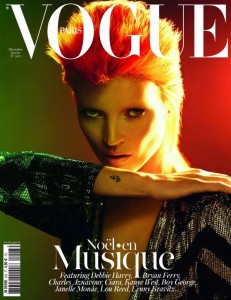 For the January 2012 issue of Vogue Paris…we have David Bowie! Or, Kate Moss' interpretation of Ziggy Stardust under the lens of Mert Alas and Marcus Piggott. What a way to bring in the new year.

(Disclaimer: the gorgeous photo, below, came to mind as soon as I laid eyes on the Vogue cover! A mashup.)

The British Fashion Council held its British Fashion Awards earlier this week, and managed to select winners that almost everyone agreed with – HOORAY! Do you wish to take a look? Of course you do:

Designer of the Year: Sarah Burton for Alexander McQueen
Red Carpet Award: Stella McCartney
Designer Brand Award: Victoria Beckham
New Establishment Award: Christopher Kane
Menswear Designer of the Year: Kim Jones
Accessory Designer of the Year: Charlotte Dellal for Charlotte Olympia
British Style Award: Alexa Chung
Model Award: Stella Tennant
Outstanding Achievement in Fashion: Paul Smith
Isabella Blow Award for Fashion Creator: Sam Gainsbury
Emerging Talent Award, Womenswear: Mary Katrantzou
Emerging Talent Award, Menswear: Christopher Raeburn
Emerging Talent Award, Accessories: Tabitha Simmons

Do WERK, everyone.

The new H&M collaboration has been announced (yes, they knock them out like scrambled eggs), and the next designer is…Marni! Sweden's most successful retailer announced their Spring/Summer 2012 partnership with Italian label's founder Consuelo Castiglioni, set to be released on March 8th in over 260 stores worldwide.

And yes, there is already a video sneak peak for you, below. HELLO, CLASHING PRINT MENSWEAR, I LOVE YOU.
"I wanted to create a true Marni wardrobe by revisiting all our favourite pieces in signature fabrics and prints. As always, I love juxtaposing prints and colours, mixing modern tribal with Bauhaus graphic and adding sporty utilitarian elements."
– Consuelo Castiglioni
Today, the white dress which Amy Winehouse wore on the European cover of her second album, Back to Black, raised over $67,000 (£43,200) when it was sold at auction. The dress was 'won' by a private fashion museum in Chile, who's money will go to Amy's charitable foundation which supports programs to help vulnerable young people.

Ever wondered which designers are searched the more than others online? Well, according to Bing's annual search trends for 2011, Gucci tops the list. (Perhaps Kreayshawn is to blame?)

Other top ten brands included John Galliano (legal troubles), J.Crew (lesbian/divorce), Guess(?), and Chanel twice over — once for the brand name itself (because it's fabulous) and once for founder Coco Chanel (because she's fabulous).

Big news for fashionistas in the Netherlands (and beyond)! Condé Nast has confirmed that Vogue will begin publishing a Netherlands edition in 2012, and it to be edited by the recently resigned editor of Dutch Glamour, Karin Swerink.

"Holland is a thriving market in the heart of Western Europe with a growing hunger for luxury. It is natural for Vogue."
– Jonathan Newhouse, Condé Nast International's chairman