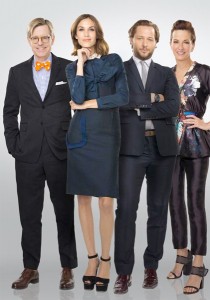 On January 10th, Alexa Chung's latest TV venture – "24 Hour Catwalk" – will premiere on the Lifetime network in the US. The premise? A hyperactive version of "Project Runway" where four designers compete to produce the most fabulous collection of clothes and win a $10,000 cash prize each episode (which is filmed over just 24 hours). Judges will include Miss Chung, designer Cynthia Rowley, fashion editor Derek Blasberg, and publicist James LeForce. Check out a sneak peek here.

In two days, Elite Model Management will host their 28th Elite Model Look World Final competition in China. Currently, 70 aspiring models are in Shanghai undergoing a specialized 'boot camp' before the final round.

Lady Gaga's new music video for Marry The Night has been released, and marks her first video as a solo director. Describing the video as "autobiographical" and the "worst day of her life", Gaga is institutionalized while wearing next season's Calvin Klein and some incredible custom Giuseppe Zanotti shoes. I've had worse days.

It segues into a Fame-like dance number (in stilettos, of course) and nostaglic Eighties pyromania. It's bloody awesome.




Jessica Simpson may be pregnant, but she certainly has no plans to slow down on her path towards fashion domination. Though she just launched a joint girl's fashion venture with (little sister) Ashlee Simpson, reports are in that Jessica will be launching a maternity line, a children's footwear line, and an under-5s line. Because shoes, fragrances, luggage, jewellery, handbags, clothing, denim and outerwear isn't enough. Rock on, Jessica.

This week, the Wall Street Journal profiled the incredibly talented fashion designer Dries van Noten, and taught us that sometimes even the big gun's get it wrong. Very wrong.

Two years later, close call No. 2 came: the Persian Gulf War. Most fashion companies lost a great deal sales-wise because American retailers slashed their spring/summer 1991 orders as the country went to war in January. Van Noten experienced that and more: "That season," he says, "I made the collection inspired by Iraq and Iran"—having conceived and designed it before Iraq invaded Kuwait. As it happens, he says, "we have a system where jacket names begin with a B for blazer, and skirts are with an S for skirt, so that season the blazers were called Baghdad, the skirts were called Saddam, and so on. All the shipments to New York were blocked in customs because the papers were filled with names of cities of Iraq and Saddam."

"That," he says quietly, "nearly caused us bankruptcy."
Congratulations to Michael Kors Holdings who have finally plunged into the stock market and are currently plotting an IPO. They intend to trade under the name of KORS on the New York Stock, and hope to sell 48 million shares, including over-allotments, between $17 to $19 a piece. Which means, yes, you will soon be able to own part of Kors' company (soon to be valued near $3.62 billion) for under $20.