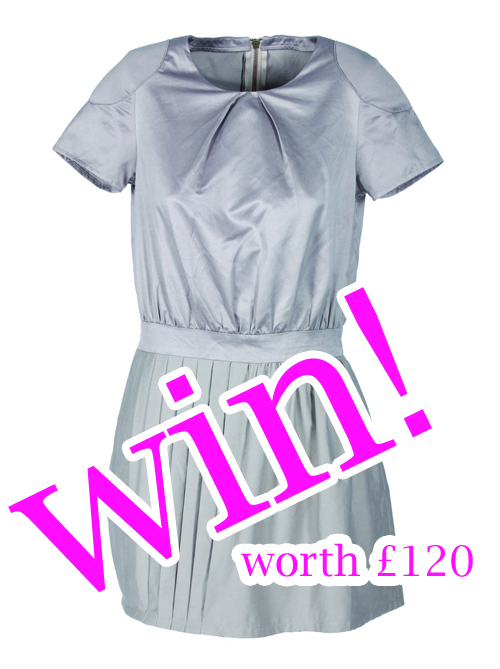 That's right! Out with the old competition and in with the new!
I have a size small (though not tight!), classy "Kanari" dress to give away! Designed by Volcom, the dress has a half pleated skirt detail and gathered top with abox pleat tuck on the neckline. The Kanari Dress is actually part of Volcom's Autumn/Winter 2011 SEED collection – a project which supports the grass roots of fashion.
In 2009, Volcom approached the London College of Fashion with an open brief: to re-invent a classic piece of Volcom denim. The prize was a six month placement working in the girls design department on a capsule collection which, obviously, was to be known as the SEED line.
In starting the capsule collection, the starting point for the winner – Anju Khusul – was to re-visit some of Volcom's most popular and key garments. Anju wanted to create a fresh take on these key pieces but not lose the Volcom identity. As she started the research, she became inspired by the traditional art of Origami and wanted to recreate intricate and beautiful origami techniques in fabric.
The colour palette is based around matt and sheen black, estate blue, cinder brown and hints of plum, a colour combination which projects a feminine and sleek look – and with this being a more luxurious line, the fabric choices reflect this accordingly; they include silk yarns, bamboo cotton and a woven Jacquard.
Every detail on every garment has been hand selected and developed by Anju Khusul, and has resulted in a unique and incredible collection – of which you can win a piece from!
To enter:
Leave a comment below telling me why you want to win this gorgeous dress!
To validate your entry, "Like" my page on Facebook and publicly "Share" the photo in the WIN! A gorgeous "Kanari" album.
For extra entries:
Follow me on Twitter and tweet:

I just entered to #win a @volcom dress on www.lelalondon.com! @lelalondon
The contest is open worldwide. You have until January 27th to enter. Please make sure you comment with a valid e-mail address.