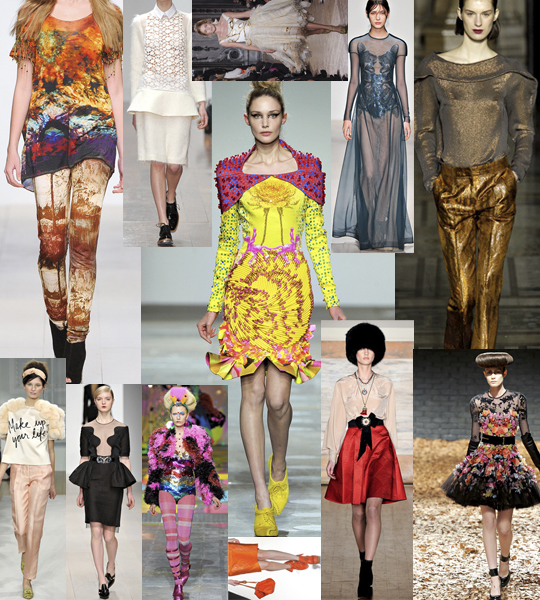 To be backstage at Nicole Farhi is a beautiful thing. Getting a sneak peek and uber-close look at her Autumn/Winter 2012 collection was an absolute dream. With mustard, grey, and gold on the mind, Madame Farhi managed to balance the sensibly pristine with a dash of sequins. Minimal magic and new-age embellishments on classic pieced? Be still, my heart.
Bora Aksu
Though the models rocked pale foundation and blue lips, Bora Aksu's collection was anything but frosty. The Turkish-born designer has a knack for taking fashion out of its comfort zone and displaying ornate detail on soft and feminine materials. This season gave a lot of white, pink, grey, and a whole lot of lace. A sensual juxtaposition of light and dark. If you love the idea of "Erdem meets Mary Katrantzou", Aksu is your guy.
I was really surprised by Felder Felder this season. Known for their definitively dark presentations, the flaxen-haired duo gave us "Blonde" – a collection that appealed to a versatile, more contemporary buyer. The colours ranged from golds, to oranges, to impressively dark prints; dare I say there was a real Rodarte feel to the collection. This was a collection that any woman could create a capsule wardrobe from, and I am never one to complain about that.
When your father is John Rocha and you become a graduate of St Martins, there is quite an expectation from the fashion industry of your talent. Thankfully, Simone Rocha's premiere London Fashion Week season was fantastic. Using an always-adorable mix of masculine and feminine, the Irish designer's A/W 2012 collection features knitted tiaras and chunky brogues in between oversized coats, adolescent shift dresses, and infrequent flashes of neon. Her silhouettes were charming, and her attention to detail – referencing Irish horse racing by sweeping and braiding the models' hair as a "Connemara Forelock" – made this one of my LFW highlights.
Presenting Alice Temperley's Autumn/Winter 2012 collection, "Renaissance". A directional presentation of Euro-inspired opulence, piece by piece, I couldn't fault a thing. With the obvious choice being to offer a Princess-perfect collection (Kate Middleton is a Temperley fan, and has worn the designer on many occasions), Alice really set her own tone here. She featured metallic golden brocades, modern-feel floral prints, rich embroidered satins, and absolute lashing of Mawi pearls.
Another first appearance at London Fashion Week! The label's creative director, Rossella Jardini, said, "London is renowned for its contemporary style and famous sense of humour making it the perfect place to exhibit Moschino Cheap & Chic's DNA and energy. I'm sure London will be the appropriate platform for this line to grow whilst still remembering its roots."
"Make Up Your Life" was opened by upcoming singer Lianne La Havas, and – intriguingly titled as it was – the show was a 60s whirlwind that incorporated a truly quirky interpretation of the Moschino women. Make-up prints, pearls, triple layered collars, dip dyed fur, cigarette trousers, and patterned kitten heels. I want it all.
With a borderline minimalist offering, Marios Schwab used Autumn/Winter 2012 to innovative in ways that other designers wouldn't dream of. His textured lace dresses proved to be a real standout. Fearlessly, Schwab used futuristic and swirl-edged materials to highlight the movement of a woman's body and adorned ultra sheer fabrics with modern-feel patterns. Calling this season's woman a woman a 'voyeur', he used asymmetrical hats to obscure each model from full view. His luxe use of sequins, laser cutting, and signature fetish feel leathers were personal highlights.
In Mulberry's own words, "…wrapped in fur against the elements, Mulberry gets lost in a wild and wonderful world inspired by Maurice Sendak's "Where the Wild Things Are." And wrapped the Mulberry woman definitely is. Wrapped in knits, scarves, belts, jackets, and the standout accessories that have made Mulberry a household name. As well as as the new celebrity-inspired "Del Rey" handbag, there were many pieces that offered quality and humour in a way that   designer Emma Hill always does beautifully. Zigzags, an "acorn tie dye"…there was even a skirt comprised of Mongolian fur. (P.S. The finale song was "Manamana" by The Muppets. I was a happy fashion monster.)
Red carpet glory from Antonio Berardi…as if we would expect anything less. But what can I say, this characteristic remit is not one that hold him back. With more variation in 'looks' than I have seen from the designer to date – fit and flared dresses to sharp shouldered suits – his beloved peplums were a frequent feature. Also beloved were the 6-inch "Manolo Blahnik for Antonio Berardi" heels that heisted every luxury embellishment and embroidery to eye level. He has me believing I could wear a floor-length gown (out of pure lust).
Though the label is five years old, Autumn/Winter 2012 was McQ's first stab at a season held during London Fashion Week. With a detour from playfully feminine collections of previous seasons, this show was high drama. The cause? I believe it was because the design team had recently been taken in-house and under the watch of McQueen's creative director, Sarah Burton. Who else thinks to embroider leaves, use tons of velvet and tartan without their tongue in their cheek, or make a link between tutus, military and corsetry? The collection was unbelievable. A delicious diffusion of the spectacle that is the Alexander McQueen experience.
When Ready-To-Wear collections pack the punch of couture, my wallet is in very dangerous territory. This is why I will no longer choose to look at anything designed by Giles Deacon with a credit card nearby. For Autumn/Winter, the designs were divinely deconstructed. With shape and length varying, these were forty-three looks that I will dream about for years. A dreamland of dresses, an eerie opulence, and more detailing than I ever expected. Check out the gallery and ZOOM, ZOOM, ZOOM. It is breathtaking.
Want sheer panelling with curvy piping? You definitely do, but may not have known it before seeing David Koma's A/W 2012 collection! With an incredibly cohesive collection on offer for our future wardrobes, his stand-up collars and oversized oval-shaped metal eyelet were the real heroes of these pieces. As print and texture is an expected treat, it was fantastic to see Koma play with frills, volume, sheaths, peplums, and fur, yet keep everything suitable for Autumn/Winter.
When glitter and tinsel covers every surface of their runway show, you would expect a designer to get a few eyerolls from the industry. To the contrary, Meadham Kirchhoff are one of my (and everyone else's) favourite shows of London Fashion Week. For Autumn/Winter 2012, the design duo of Edward Meadham and Benjamin Kirchhoff brought us an over-the-top disco inferno. Over two rainbow-paneled floors we saw fur coats with monster faces, appliquéd denim flared jeans, sequined dresses, pompoms, baroque silk, and Dorothy-esque red glittered platforms; total Seventies glam with an injection of imagination. The high street is going to go insane trying to copy this knitwear.
A collection inspired by pencils? It doesn't exactly instill confidence in the sanity of the fashion designer. With a name like Mary Katrantzou attached, however, you could be excused for feeling maniacally excited over a No.2 HB pencil. For A/W 2012, Mary took her inspiration from everyday items: from coat hangers to wrist watches to spoons. Incredibly, I'm not just talking prints. My fashion week favourite actually embroidered and shaped pencils onto garments.
In addition to amazing craftmanship, the colour choices in this collection were excellent. Though she is known for mixing a rainbow of colour on one garment, this season she split the show into seven distinct colourways: white, black, and every hue between. Then, to elevate her architectural pieces to a new level, Katrantzou became the first London-based designer to collaborate with Lesage (the famous haute couture French embroidery house), who enhanced her prints with sequins and embroidery. Number One Show.